Angela Aki by wikipedia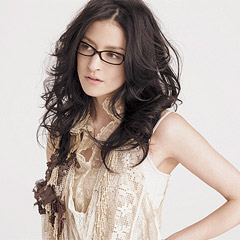 Birth name Aki Angela
Born September 15, 1977
Origin Itano, Tokushima Prefecture, Shikoku, Japan
Genre(s) J-pop
Years active 2000–present
Label(s) Sony Music Japan, Tofu Records
Website Official Japanese Site, Official English Site
Angela Aki (アンジェラ・アキ Anjera Aki), born on 15 September 1977 in Itano, Tokushima Prefecture, Shikoku, Japan, to a Japanese father and an Italian-American mother, is a Japanese singer-songwriter. Her former Japanese real name is 安芸 聖世美 (Aki Kiyomi)
Angela Aki is completely bilingual in English and Japanese as she was raised in Japan, but moved to Hawaii at the age of fifteen where she graduated from Iolani School. From there she moved on to George Washington University where she graduated with majors in politics and music.
She originally released an indie album in the United States in 2000, called These Words, which received much critical acclaim. In 2002 she composed two tracks for "Let It Fall" by Dianne Eclar, a teenage pop singer from the Philippines. In 2005 in Japan, she released an indie mini-album under Virgo Music entitled ONE, which is what alerted Nobuo Uematsu to her music. Angela Aki is now signed under Sony Japan. In 2005 she was announced as the singer of the Final Fantasy XII theme song, "Kiss Me Good-Bye".
She is good friends with JPOP star Yuna Ito. Both singers attended the same Japanese language school.
Angela Aki is the daughter of Kiyoshi Aki, the owner/co-founder of AEON Institute of Language Education. This is one of the "Big Four" Eikaiwa (English conversation schools) in Japan.